Be Prepared... Everywhere.
The Lever Gear Toolcard™ packs 40 functions into a beautifully crafted, credit card-sized multitool. Whether tucked away in your wallet or on display as a money clip, it's always with you so you can get things done. Watch the video below to see the Toolcard™ in action.
Features and Functions
Made In America
Designed in Asheville, NC
Manufacturing in NC & NY
Removable Money Clip
Snaps on/off in seconds (see how)
No tools or fasteners required
Holds up to six credit cards
420 Stainless Steel
Blade quality stainless steel
Heat treated for strength & hardness
Excellent corrosion resistance
Laser Marked Graphics
Sharp, high-contrast marks
Permanent marks burned into steel
Add Personalization
Add a name, message or logo
Great for gifts or promotions
"The Lever Gear Toolcard has become a must-have for our kayaking outings. Our folding kayaks have dozens of screws, nuts and bolts- and when you're on a serious trip, you have to be ready to repair anything. The stainless steel has held up through weeks of saltwater paddling."
"I was immediately impressed with the weight, looks and feel of the card… The can opener works like a charm. The inclusion of the ¼ inch hex bit holder is a stroke of genius. One of my outdoor activities is bow hunting/archery and simply including the appropriate hex bits, means I can tune my bow in the field. I like to carry a full tang knife for all my outdoor activities, so adding the Lever Toolcard to my gear repair kit means I don't have to carry a multi tool or any other items."
"In today's crowded world of everyday carry gear, it's a delicate balance between carrying just what you need to prepare for the day, and adding a bit of personality and style to your EDC. The Toolcard does both. Not only do you add an amazing array of functionality without sacrificing precious pocket space, but its unique, sleek design is definitely a conversation starter."
Free Shipping
On all orders over $50.
All other orders $3.99 flat rate.
U.S. only. International
shipping rates apply.
Featured Products
See all of our products in the Lever Gear store. View Store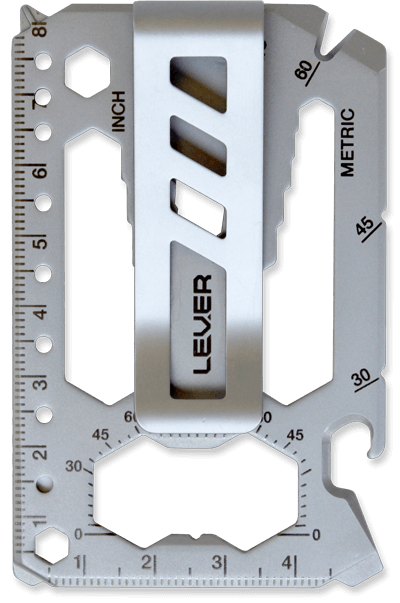 Toolcard Pro with Clip - Beadblast Silver
$29.95
Toolcard Pro - Tactical Black
$35.95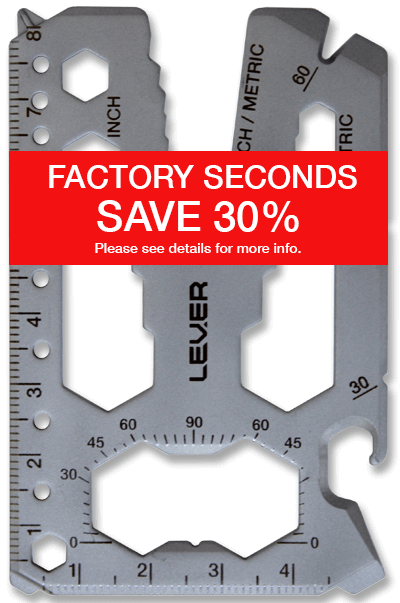 Factory Seconds Toolcard Pro - Silver
$19.60
100% Money Back Guarantee!
No risk. No hassles. If for any reason you're not satisfied with your purchase from this website, email us within 60 days of receipt and we will fully refund or replace your order. We'll even pay the shipping. (details)
What sets the Toolcard™ apart?
Designed for life
With the perfect blend of style and function, the Toolcard™ is designed to look great with your other gear and still be the hardest working card-sized tool on the market.
The Toolcard™ has the attention to detail you demand from the objects you carry. The chamfered edges add visual depth to the flat form. The bead blast finish in silver or gun metal black creates a beautiful, satin sheen and the laser etching adds sharp, permanent markings that are easy to read and look great.
read more
Every feature on the Toolcard™ was designed for optimal functionality, from the bartender-style bottle opener to the screwdrivers, which align with the opposite corner for visual guidance. The cord cutter is safely nestled in the can opener recess and the perimeter edges are smooth, so they won't snag on your wallet and feel great in your hand test.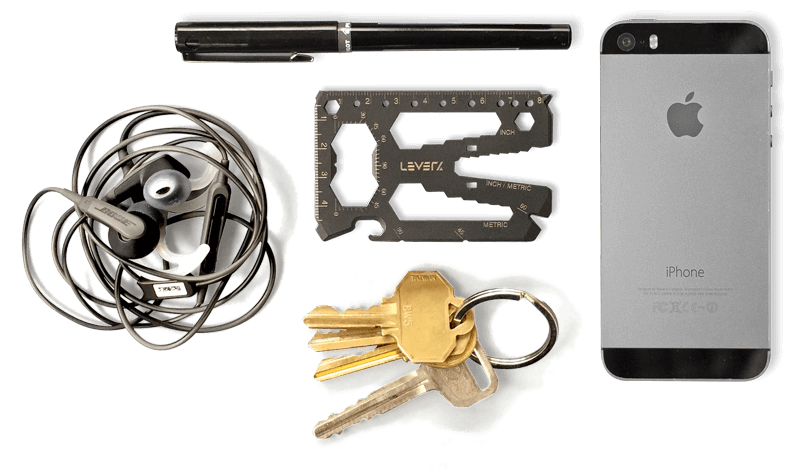 ;
Engineered to perform
At Lever Gear, Engineering is at the heart of our design process. The layout of the Toolcard™ was based on principles of truss and beam design. By using a thicker gauge steel than similar cards and nesting the tools, we created a design that was strong yet lightweight.
The Toolcard™ is made from blade quality 420 stainless steel, which is heat-treated after forming, to provide the optimal combination of hardness, durability, corrosion resistance and beauty.
Read More
The Toolcard™ design may appear simple, but there are several intricate processes that go into the final product including stamping, machining, heat-treating, deburring, bead-blasting, Isonite coating and finally, laser etching. We work closely with our vendors to ensure exceptional quality every step of the way.
Crafted for convenience
For those times when a wallet is just too thick, get minimal with the most useful money clip around. Each Toolcard™ comes with a removable money clip that holds up to six cards or a wad of cash. It snaps on or off in seconds with no tools required and no fasteners to lose. And the best part… the bottle opener works with your credit cards in place.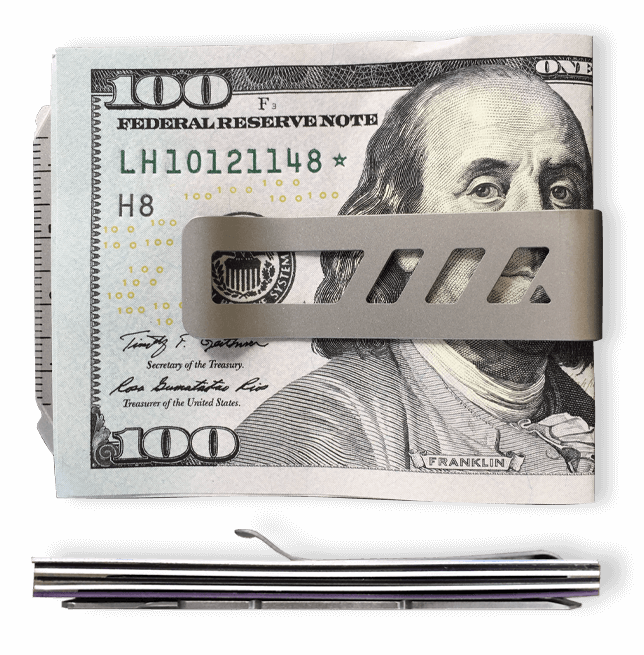 Our Story
Why we do what we do.
We design gear for people who tackle life head on and do it with style. You demand the best from your tools and the objects you carry, and so do we. There's plenty of stuff in the world; frankly, too much. We believe in having less stuff, designed with more care.
Our mission is to restore the art of craftsmanship to manufactured goods- to design great looking products that solve real problems, work flawlessly, and stand the test of time.
The right product at the right time.
Lever Founder, Mike Scully, spent 15 years in San Francisco helping companies develop products ranging from solar inverters to kayaks. As an independent product design and engineering consultant, he loved the interaction of working with new clients, but secretly longed to create his own products, on his own terms. After a few false starts at finding just the right product, Mike was reminded of an old idea he had for a credit card multitool when he came across one in a gift shop. He remembers the excitement he felt, thinking, "I can do better." READ MORE
A family affair
In January of 2015, Mike launched Lever Gear with his wife, April, to bring the Toolcard™ to life and develop a brand of premium everyday carry gear. That same month they had their first child, Brayden. A few months later they moved to Asheville NC and bought a house. What better time to try to launch a company, right?

Mike runs the design, engineering and creative direction of the company while April runs the media and marketing. They both report to Brayden who really runs the show.
A true team effort
Bringing a high caliber product to market wouldn't be possible without a strong team behind us. We carefully selected design and manufacturing partners who were willing to take ownership of the process, and who shared our passion for producing only the highest quality products. The Lever Gear Toolcard™ is made in America, with our main production facility just minutes from our Asheville office. This proximity enabled us to work closely with the manufacturing team throughout the design process and optimize the design for manufacturability. It also allows us to keep a tight leash on quality control and adjust to any issues as they arise.
Get In Touch
Thank you! Your submission has been received!
Oops! Something went wrong while submitting the form