What Makes the Perfect Gift?
Is it us, or is gift buying getting harder? Sure it's technically easier to go online and get anything, but chances are, they've already gone online and bought what they need.  What do you get for the guy or gal that has everything? Well, for one, it should be a unique gift; something they've never seen before. It should be something that speaks to them and reflects their sense of style. A gift that shows you've thought about it for more than a minute. If it's a practical gift they can use every day, even better. If it's a personalized gift you're in bonus points territory.
The Lever Gear Toolcard Pro is a credit card sized multi-tool with 40 tools in one slim card tool. It can slip into a wallet or be a wallet with the detachable money clip. It's a great gift for men but women love it too. It's so easy to carry and they'll use it every day. The Toolcard Pro is made in America and they'll notice the craftsmanship and quality from the minute they slide it out of the custom sleeve. We can even etch their name or a personal message on the card to make it a truly memorable gift.
A personalized Toolcard Pro is an ideal gift for people who are always tinkering, fixing and planning. You can even add a personal inscription.
I've recently purchased the lever gear tool card and I'm very happy with it. I'm a union boilermaker and also carry a Leatherman multi-tool. With the two of them, it's like having a toolbox on you. Thanks, lever gear
Small business who care about the customers. This is a great multi-use tool and very easy to take with you anywhere, including the airport; it does not have a knife edge and TSA will not take this from you.
These things are handy. Lightweight but sturdy. Tucks away in your wallet for repairs and/or emergencies. Lots of uses and great design.
Extremely high quality, and honestly the best tool card out!!! This thing is super tough, durable and simply just gets the job done. So convenient and useful for so many things. Don't cheap out. Lesson in life, you get what you pay for. I had the wallet ninja years back and this thing blows it out of the water. Couldn't be happier. If you're an EDC gear enthusiast this is the tool for you.
A Useful Gift He'll Actually Use
With a best-in-class 40 tools, there's no limit to the times he will be pulling out his Toolcard Pro to fix, open, measure, or draw stuff. The best part is, he'll think of you everytime he uses it. Other multitools are bulky and take up space in your already crowded pockets. The Toolcard Pro is as easy to carry as a credit card or it can be his money clip so the tools are always there. Now he has no excuse not to fix that thing in the kitchen.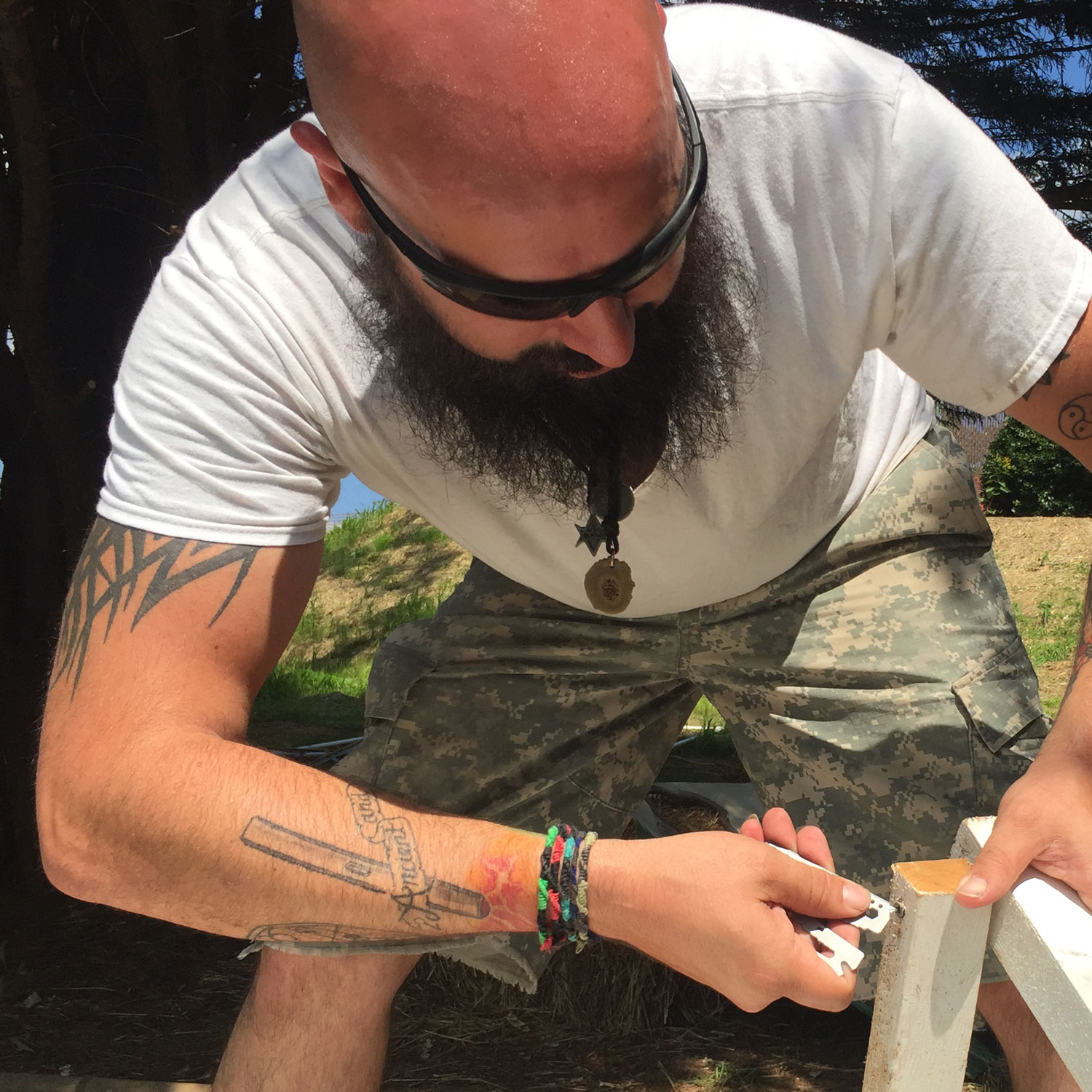 A Gift for Men Built to Last
The Toolcard Pro is stamped from 420 stainless steel and heat treated for hardness before it's bead blasted to a beautiful finish. We've engineered the Toolcard Pro to be thin and light, yet packed with features and durable enough to withstand any abuse he can throw at it. The graphics are laser etched for dark, permanent marks. It's backed by a lifetime guarantee so if it ever breaks or corrodes we'll replace it. We want him to re-gift it… to his grandson.
For the Dad who has everything
The small but powerful Toolcard Pro makes a great gift for the man who is hard to shop for. The discerning gift recipient will appreciate this light-weight, functional and a well-made design. American made and manufactured too. At less than one ounce, he can keep the tools in his wallet and always be prepared to cut line and tighten bolts.
Fast and Beautiful Personalization
Gone are the days of engraving gifts with a lame font and a dot pen machine. Your personalized message is laser etched with your choice of fonts to create the perfect personalized gift.
Creating a customized gift is simple. Simply choose "customized" from the dropdown menu on the product page and use our online customization to to type and edit your message. Then select one of four beautiful fonts and adjust the size until it looks the way you want. Add it to cart and then repeat if you want different personalized cards.
Or, select "customized" and leave it blank. Then enter your message and font (Helvetica Neue, Georgia, Copperplate or Gioviale) for each card, up to three lines and 20 characters per line, in the order notes after you "proceed to checkout".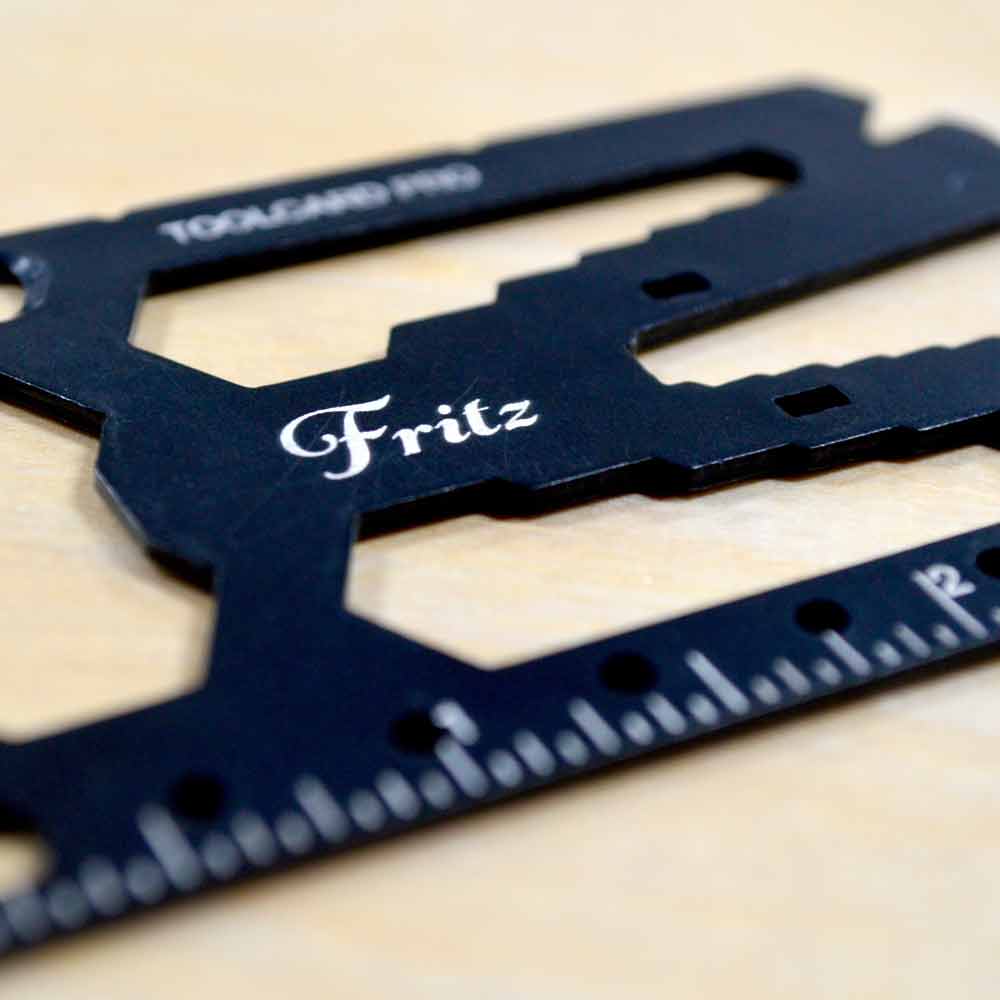 With easy shipping, fast turn-around times, and a lifetime warranty the only question left is how many silver and how many black?