Toolcard Pro
From: $25.95
Imagine solving daily problems at a moment's notice– open boxes, tighten a loose screw or bolt, cut cords, and pop open a friend's beer. The Lever Gear Toolcard Pro packs 40 tools into a 1.5mm thin card tool. It slips easily into your wallet and is TSA compliant so you can take it anywhere. The Toolcard Pro has a beautiful satin finish in silver or black. Add the snap-on money clip (optional) and carry up to 6 credit cards.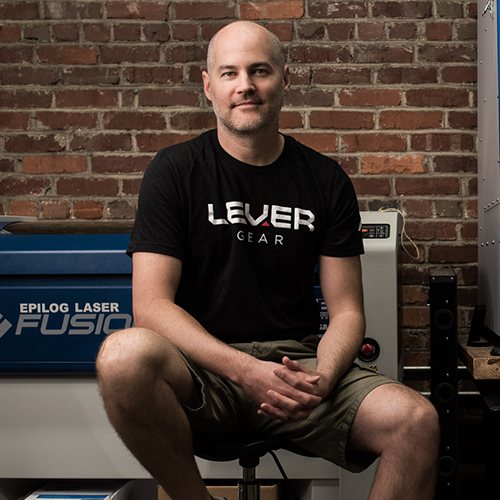 I designed the Toolcard Pro because I wanted to be prepared with some essential tools, but didn't like the extra bulk of traditional multitools. I've always carried a wallet, so I fully expected to carry the Toolcard Pro in my wallet. But, after a few months, I decided to try it out with the money clip and I haven't gone back. My favorite feature is that you can use the bottle opener without removing your credit cards.

Mike, Lever Gear CEO
Dimensions: 3.27" x 2.09" x 0.06"
Weight: 1 ounce
Hardness: HRC 48
Material: 420 Stainless Steel
Finish: Satin bead blast
8 metric wrenches (5mm – 15mm)
8 inch wrenches (3/16" – 9/16")
8 open-end wrenches fitting:

metric nuts 7,8,10,11,13mm
inch nuts #4,#6,#8,#10,¼",5/16"

Bottle opener
Can opener
Cord cutter
Small Phillips screwdriver
Small flathead screwdriver
Large flathead/Phillips screwdriver
Metric ruler (8cm)
Inch ruler (3in)
Straight edge/scraper
¼" Hex bit holder
Pry bar with nail puller
Protractor
30°, 45°, 60°, 90° speed square
Circle drawing template
The Toolcard comes with a lifetime warranty against breakage or manufacturer defects. Limit 2 replacements. This warranty does not cover surface scratches, blade dulling or normal wear and tear. Please email support@levergear.com and include a picture of the damaged product so that we may process your replacement.
[Woo_stamped_io type="widget"]