Toolcard Pro Factory Seconds
From: $15.50
Imagine solving daily problems at a moment's notice– open boxes, tighten a loose screw or bolt, cut cords, and pop open a friend's beer. The Lever Gear Toolcard Pro packs 40 tools into a 1.5mm thin card tool. It slips easily into your wallet and is TSA compliant so you can take it anywhere. The Toolcard Pro has a beautiful satin finish in silver or black. Add the snap-on money clip (optional) and carry up to 6 credit cards.
These "factory seconds" Toolcard Pro wallet multi-tools are perfectly functional, but didn't pass our quality control for cosmetic reasons. See images for examples. Includes a protective carrying sleeve, and one Lever Gear circle sticker.
Choose Silver or Black while supplies last. The Silver Toolcard Pro has a classic satin bead blast finish with dark, permanent laser-etched marks. The Tactical Black Toolcard Pro wallet card tool has a beautiful black PVD finish the reflects the character of the steel. Often used on high end knives, the PVD coating increases surface hardness and corrosion resistance. The bright laser-etched marks stand out on the black card.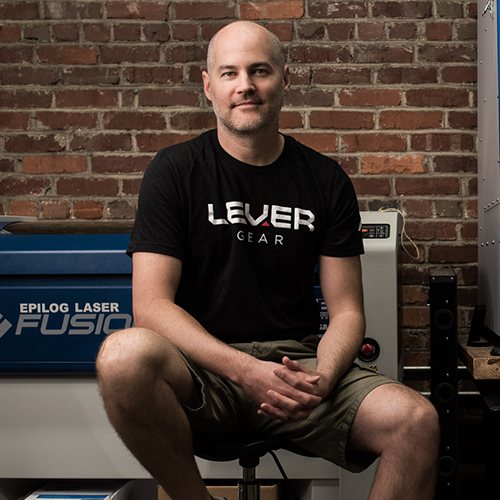 I designed the Toolcard Pro because I wanted to be prepared with some essential tools, but didn't like the extra bulk of traditional multitools. I've always carried a wallet, so I fully expected to carry the Toolcard Pro in my wallet. But, after a few months, I decided to try it out with the money clip and I haven't gone back. My favorite feature is that you can use the bottle opener without removing your credit cards.

Mike, Lever Gear CEO
Dimensions: 3.27" x 2.09" x 0.06"
Weight: 1 ounce
Hardness: HRC 48
Material: 420 Stainless Steel
Finish: Satin bead blast
8 metric wrenches (5mm – 15mm)
8 inch wrenches (3/16" – 9/16")
8 open-end wrenches fitting:

metric nuts 7,8,10,11,13mm
inch nuts #4,#6,#8,#10,¼",5/16"

Bottle opener
Can opener
Cord cutter
Small Phillips screwdriver
Small flathead screwdriver
Large flathead/Phillips screwdriver
Metric ruler (8cm)
Inch ruler (3in)
Straight edge/scraper
¼" Hex bit holder
Pry bar with nail puller
Protractor
30°, 45°, 60°, 90° speed square
Circle drawing template
Customer Reviews
06/29/2020
Anonymous
US
quick response and easily incorporated logo
Looks great and well received. Your "seconds" are better than many "first" quality tools. Well done.
06/21/2020
Jurijus Š.
LT
Best Tool
This is my second card. Which I have been using for about 2-3 years. The best card type multitools. The best compromise between convenience and functionality. thanks Leaver Gear team for a very good product Greetings from Lithuania
06/19/2020
Lionel Y.
MY
Worth the wait, looking forward to putting in through its paces
Finally arrived, fast considering the overloaded courier services and that I live literally on the other side of the planet... plus all the added restrictions because of the C-19 virus. #TSACompliant was the main reason for the purchases, lost a couple of good EDC to airport security :( ( Bless'em, just doing their job ) the clip gives a variety of carry options too and its a lot comfier to use then some of my other card tools. Again, great job guys!
05/19/2020
Anonymous
HK
EDC you never knew you need one
Great to have one in the car
05/16/2020
George M.
US
It has been very useful
I have enjoyed the easy excess of the tool, my only complaint is that I was supposed to get a free factory second tool card pro with my order. That did not happen, I was a little upset but I enjoy having that tool available.